You might have questions about the logistics of our tours. These frequently asked questions help answer some of the more common questions. If you can't find an answer here, send us a message and we'll be happy to provide you with more detail.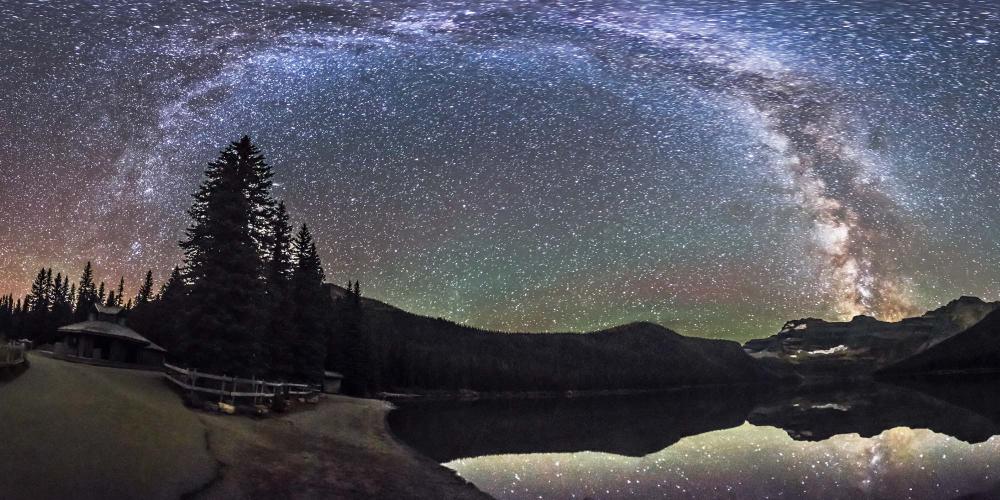 Q: What if the weather doesn't cooperate?
Our tours go regardless of the weather. But we understand that it can be kind of hard to go stargazing when you can't see through the rain, snow and clouds. As such, if the weather doesn't cooperate, our guides will make a last minute decision to adjust the tour itinerary/route, as they deem necessary.
---
Q: So what does that actually mean?
If we decide the weather isn't cooperating, our guides may decide to adjust the tour itinerary/route. This may involve traveling to a different location than the one described in the itinerary, which may be closer to the northern edge of Waterton Park (where the clouds tend to disperse). Another option we have is to go to our secret stargazing location, which offers shelter from the elements... Of course, we'll still have our stargazing equipment nearby so if the clouds break, we will attempt to give you some outside time to explore on your own, too. And don't forget that our guides are a wealth of local lore, so they will be sure to keep you entertained with interesting stories, information and of course, delicious snacks and warm beverages.
---
Q: What Kinds of Stargazing Equipment will I have Access to?
We endeavor to provide some of the best quality stargazing equipment possible, given the mobile nature of the tours. Depending on which tour you take part in, you will have access to the following:
Celestron NexStar 8 SE Telescope: features Schmidt-Cassegrain 8" aperture optics with SkyAlign alignment technology. This is our go-to telescope; the workhorse!
Sky-Watcher Dobsonian Collapsible 12" Telescope: the venerable Dob reflector design is the ultimate in large aperture, portability and performance. Because of its larger size, we only bring this bad-boy out when the tour doesn't involve much walking – it's heavy!).
Celestron Cometron 7x50 Binoculars: bring celestial objects into bright, sharp focus, making them ideal for comet watching, stargazing and viewing craters on the moon. These will hopefully set the stage for you to continue stargazing after our tour, but without requiring you to spend a lot of money to get into the hobby.
Celestron SkyMaster DX 8x56 Binoculars: these were named the #1 recommended bino for astronomy, by Terence Dickinson in SkyNews Magazine. Enough said!
---
Q: What is your cancellation policy?
Please click here for a copy of our company's cancellation (and other) policies.
---
Q: Where do we meet to join the tour?
Our tours meet and depart from the east entrance (look for the flagpoles) of the Waterton Community Center, located at 201 Cameron Falls Dr. There is plenty of parking on Cameron Falls Dr. if you are planning to drive to the meeting place. Otherwise, it's a quick, easy 5-minute walk from main street (Waterton Ave).
At the end of the tour, we can return you to the Community Center, or we can drop you off directly at your accommodation!
---
Q: Where can I find your business?
Don't worry! We make connecting easy. In fact, you don't have to come find us – we'll come straight to you. As mentioned above, our tours meet and depart from the flagpoles at the east entrance of the Waterton Community Center.
---
Q: Do you offer door-to-door service?
We'll pick you up at the Waterton Community Center, and if you want, we will drop you off at your accommodation, at the end of the tour.
---
Q: Do I need to make a reservation in advance?
We recommend you buy your tour tickets in advance. We strive to offer an incredibly personalized tour. This means we limit the number of participants on each tour. As such, tours tend to sell out – so we encourage you to make your reservations as soon as you have a good idea of your travel itinerary. That being said, please note our refund/cancellation policy (mentioned above). If you are concerned about the weather, you can always hold off until a day or two before.
---
Q: How many guest reservations are required to operate a tour?
We require a minimum of 2 participants.
---
Q: Can I book a private tour?
Absolutely! Our goal is to offer personalized tours, so if you want the ultimate personalized tour, just contact us to arrange something special.
---
Q: What if my group is larger than 12 people?
Contact us and we will make things work! We can always bring in additional guides to offer additional tours. It may just mean that we have to off-set the start time of the second tour by a few minutes, but we'll try to make sure everyone catches up and spends the evening together.
---
Q: I'm worried that a wild animal is going to attack me in the dark and eat me…
We totally understand your apprehension, because every time we go to the city, we feel like someone is going to attack us when we get out of the car.
Think about it this way: if the animals were waiting to eat us, our guides sure wouldn't be alive today, considering the number of times they've gone exploring in the dark. Okay… All kidding aside, you don't need to be fearful, just aware.
We hike in groups and the group is led by our Lead Guide; a secondary tail-guide will bring up the rear of the group. Also, we tend to make a little noise, to let any wildlife know that we are in the area. As long as we don't surprise any animals, we won't have any troubles.
---
Q: What about Bear Spray?
We do not provide tour participants with bear spray, but all of our guides do carry spray cans.
---
Q: What do you do with the gear that you provide to participants?
If you are referring to the provided gear we offer participants on each tour (headlamps, hiking poles, chairs, etc.), we sell that equipment at discounted rates at the end of the summer and winter seasons. Drop us an email towards the end of the season to see what you might be able to score a deal on!
---
Q: Can I bring my pet on the tour?
Unfortunately, we are unable to accommodate pets…. The reasons that pets are not permitted on any tour is to ensure the comfort of all tour participants, as well as ensuring that we maintain the ecological integrity of the areas visited on the tour, and reducing the chance of wildlife encounters.
---
Q: Are your tours wheelchair accessible?
Not really, no. The thing is, the tours themselves involve travel along unpaved hiking trails, which are not wheelchair-friendly. Please contact us for more information about a private tour to a location that may be wheelchair-accessible.
---
Q: Do you offer a discount for seniors or students?
We're all made of star-stuff. We don't discriminate against anyone, whether you're a child, a child-at-heart, an extra-terrestrial being or artificial intelligence. The only discount available is the more people that are on a specific tour, the lower the price everyone pays.
---
Q: I still don't understand the different tour prices...?
If you make a reservation for 2 or 3 people, the price per person is $79. If another group then books the same tour as you, after you've made your reservation (and the total number of tour participants is 4-5), then everyone on that tour pays the lower rate of $65. And let's say yet another group books that same tour (and the group total exceeds 6) then the price per person is $49. The reason we charge these tiered rates for smaller groups is because we want to be able to accommodate very small groups, but we still have to cover our operating costs. Keep in mind that if you are paying a higher price, it means you are also getting a far more intimate/private tour!

---
Q: Okay… are there ANY special discounts available?
We have hidden promo codes that provide a discount in some of our marketing materials. If you come across one of those codes, make sure to use it when completing your booking (only one code per booking). We also offer discounts if you book multiple tours with us (e.g. returning participants).
---
Q: Is it appropriate to tip the guides?
Our prices do not include gratuities. If you feel that your guide was exceptional, feel free to show your appreciation at your discretion, though gratuities are not required.
---
Q: Are your guides qualified to provide these tours?
All of our guides are Waterton Locals with extensive experience. Parks Canada requires that our guides adhere to particular certifications. As such, all of our guides are, at minimum, certified through the Interpretive Guides Association (IGA) as Professional Interpreters.
---
Q: How knowledgeable are your guides?
We pride ourselves on being incredibly knowledge! Our guides must complete their IGA certification, and we also have an in-depth, in-house training program and our guides all share a passion for continuously learning new things.
---
Q: What should I wear and/or bring with me?
Take a look at the description page for each tour, to see what we recommend you bring with you.
---
Q: Do I need to sign a waiver form to take part in the tour?
Yes, we require that everyone in your group sign a waiver form, at the beginning of the tour. Waivers can be viewed and downloaded in advance from our website. We will request that you sign the waiver form in person, when we pick you up at the start of the tour.
---
Q: I have to pee…?
Because of the nature of our outdoor stargazing tours, we cannot guarantee that there will be washroom facilities available. As such, we encourage all participants to use the facilities before we pick you up. If an emergency arises while on the tour, you may have to act like an animal and "go in the woods"…
---
Q: I'm hungry… Actually, now I'm thirsty…
You are more than welcome to bring any snacks or drinks with you, if you wish. We just ask that you remember one of the golden rules of hiking: "everything that goes in with you also comes back out with you". In other words, pack it in – pack it out.
Please note, however, that the price of your tour includes a complimentary warm beverage. We pack the drinks in and out, and will share with you, when we reach our stargazing destination. Please be sure to let us know, when completing your booking reservation, if you have any allergies.
---
Q: You still haven't answered my question…
Have we forgotten something...? If we're missing something here, please contact us, and let us know. Chances are, you're not the only person wondering about it.