Our "Travel Alberta ALTO" Award-winning tour is for the adventurous!
Our Travel Alberta ALTO Award-Winning tour is for the adventurous! Featuring a longer and more-physically-demanding night hike, the Adventure Tour takes participants away from the roads and lights, and into the backcountry, for a truly pristine, untouched, memorable, Dark Sky experience.
Please note that telescopes are NOT used on this tour - after all, the best way to stargaze is simply to use your own two eyes!
Difficulty Rating: Moderately Difficult
Duration: Approx. 2.5 hours
Price: $89 per participant
Maximum 12 participants allowed
Minimum 3 participants required
Requires an adventurous spirit and good physical shape. This tour is suited for participants who enjoy an active lifestyle; you should be able to hike at a pace of 4km/hr for sustained periods of time.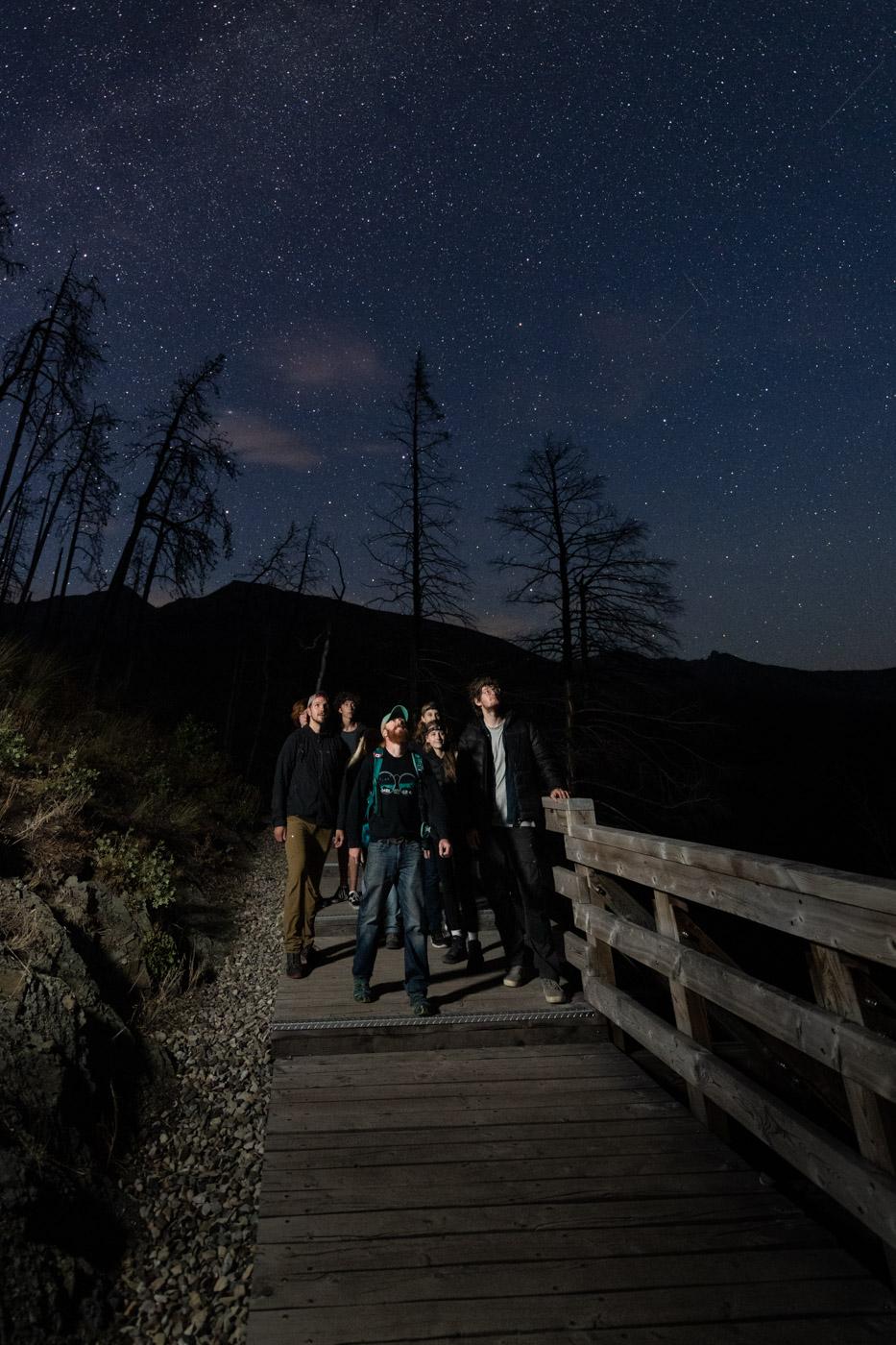 ---
What's included in the Tour?
Personalized tour commentary provided by knowledgeable, friendly, experienced local guides
Complimentary shuttle transport with pick-up and drop-off at the location of your choosing in Waterton Lakes National Park
Headlamp
Hiking poles
Binoculars
---
What to Bring / Wear
Whenever you are taking part in outdoor activities in the mountains, it is a good idea to dress in layers appropriate for the weather (e.g. Tops: base-layer t-shirt, long-sleeve shirt, sweater or fleece, outer-layer jacket; Bottoms: shorts, long underwear, pants)
Appropriate outerwear suited for the weather (a good windbreaker or rain jacket)
Wear good, sturdy walking shoes or hiking boots
Appropriate headwear (hat, bandana, warm toque, if desired)
Gloves
A small backpack (with rain-cover, if you have one)
Your own headlamp with required red-light setting (if desired)
Your own hiking poles (if desired)
A blanket (if desired)
A favorite cushion or collapsible/folding camp chair (to kneel / sit on, if desired)
Any medications / allergy prevention
A Sense of Adventure and an interest to learn!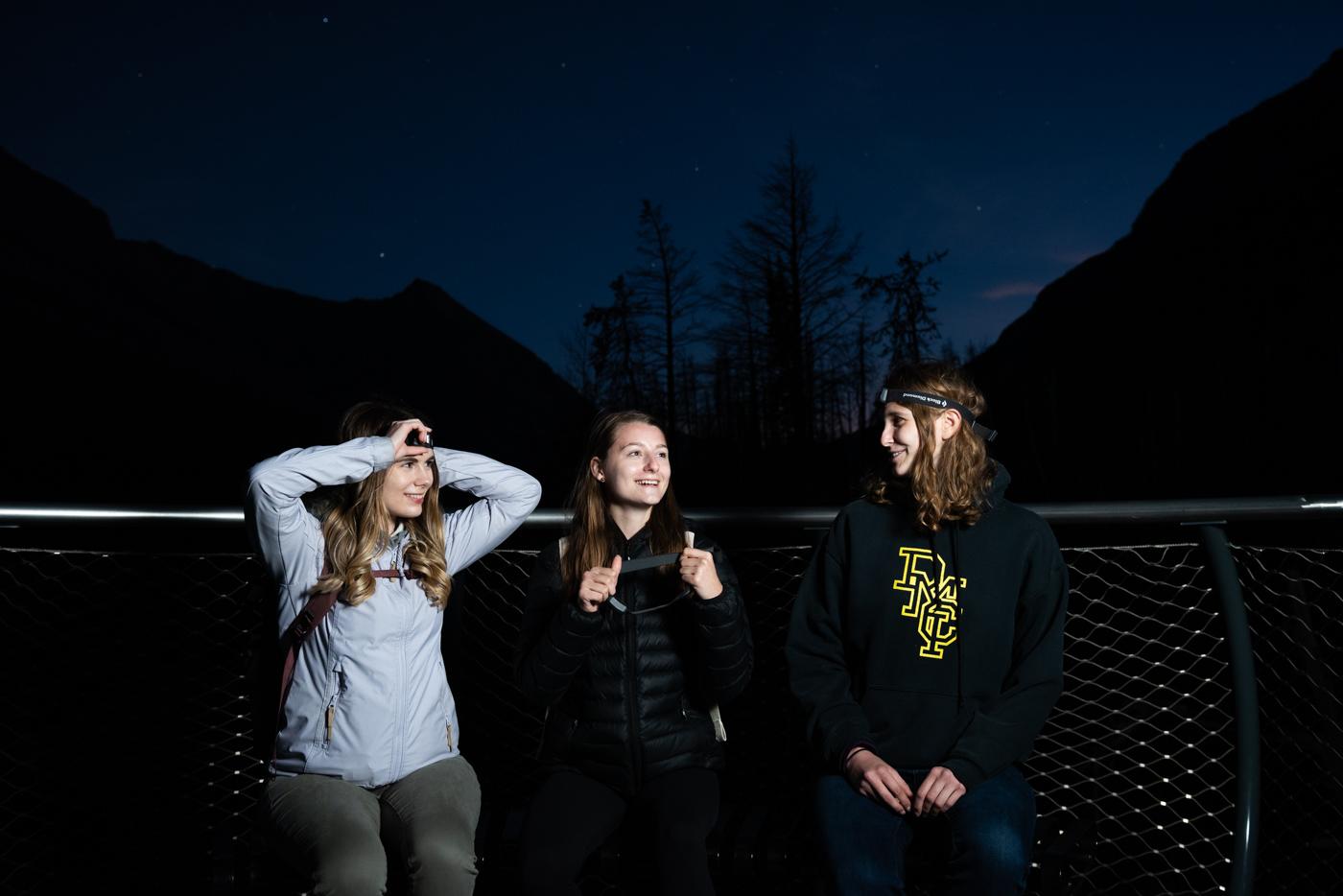 ---
Highlights
This tour begins when your guide picks you up from your accommodation within Waterton Lakes National Park. After stepping aboard the Dark Sky Tour Bus, your guide will safely drive approximately 20-minutes to the trailhead. During the drive you will get to know the guides and learn about Waterton Lakes National Park. The hike involves night time hiking at a moderate pace, following a developed trail over undulating hills and through various stands of trees. The hike can take anywhere from 20-40 minutes to arrive at our destination. Participants will feel what it's really like to go for a hike in the dark. Once at the destination, sit down, lean back and look up!
Our guides will begin by pointing out a few noteworthy features (depending on what's visible that particular night) and help you learn to navigate your way around the night sky. Listen to some interesting stories about the cosmos and discover your universe.
Before you start to get tired, the group will pack up and begin the return hike to the bus. Along the way, your guides will point out a few more noteworthy features and share a few additional stories. Once aboard the bus, sit back and relax in comfort as we drive back to town and your accommodation.
Please note that telescopes are not included in this tour. The Dark Sky Adventure Tour focuses on the night hike itself, as well as naked-eye and binocular stargazing, and immersive storytelling.