Snowshoe Winter Adventure Tour
The Snowshoe Winter Adventure Tour takes place during the coldest, darkest months of the year!
New in 2022! Our brand new Snowshoe Winter Adventure Tour takes you out for an exciting snowshoeing adventure during the coldest, darkest months of the year to experience Waterton's Dark Skies beyond the Waterton Townsite.
This is a physical after-dark snowshoe experience recommended for those who are physically-fit, have a little experience snowshoeing, or are feeling adventurous and excited to learn to snowshoe on the fly! Please note that telescopes are not used on this tour - after all, the best way to stargaze is simply to use your own two eyes!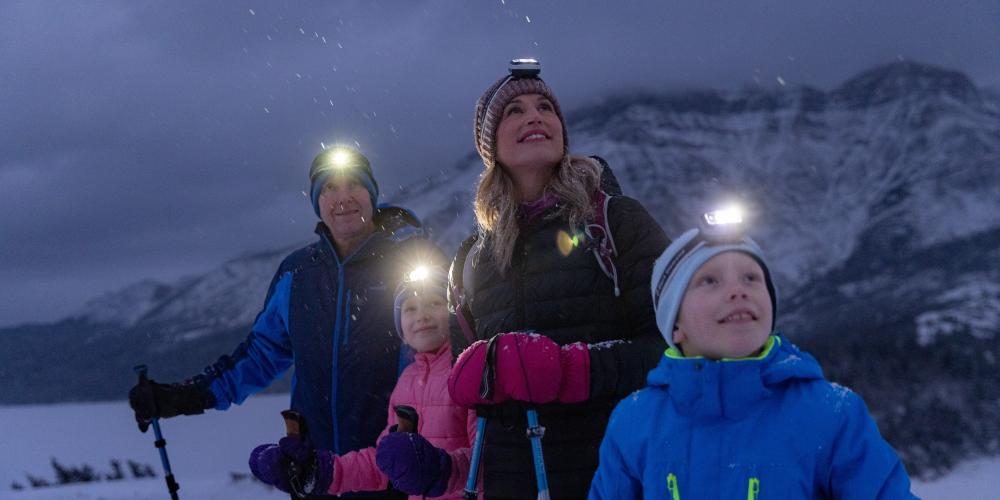 Highlights
This tour begins when you meet your guide at the Lake Linnet parking area (just off the main entrance road, southeast of the Parks Canada operations compound, and north of the Prince of Wales Hotel). Please note that tour participants are responsible for their own transportation to/from this meeting area. The adventure route itself is approximately 1km in length (with an option to go further, depending on weather and sky conditions, as well as participants' fitness level), though unless you are an avid snowshoer, it will likely feel a much longer distance/duration due to some elevation gain/loss and ever-changing snow conditions.
Upon meeting your guide, you will be outfitted with appropriately-sized complimentary snowshoes. We also provide complimentary hiking poles, headlamps and binoculars. Prior to hitting the trail, your guide will provide you with a crash-course in snowshoeing technique and familiarize you with what to expect on the tour.
Though your snowshoe journey may change, based on snow conditions, the typical route is a 1-way loop circuit that will see you snowshoe and then stop periodically for your guide to point out a noteworthy constellation or other night sky feature. Before you start to get cold, you will resume snowshoeing until the next viewpoint, where your guide will point out a few more noteworthy features and share a few additional stories.
Eventually we will complete our loop and return to the starting point, where the tour will conclude.
Please note that telescopes are not included in this tour. This tour focuses on snowshoeing at night, as well as naked-eye and binocular stargazing, and immersive storytelling.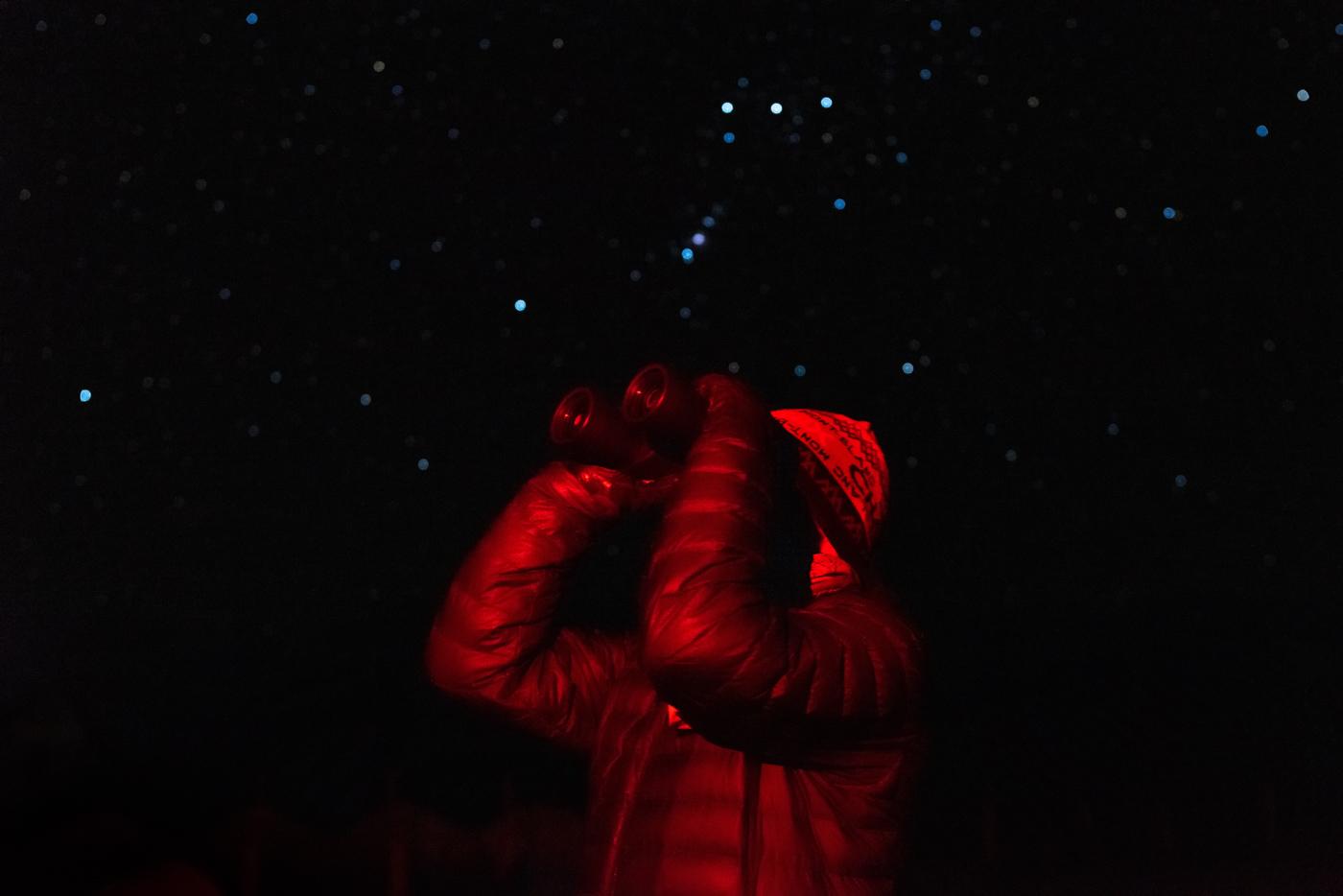 ---
What's included in the Tour?
Personalized tour commentary provided by knowledgeable, friendly, experienced local guides
Snowshoes
Headlamp
Hiking poles
Binoculars
Blankets are also available (if desired)
---
What to Bring / Wear
Whenever you are taking part in outdoor activities in the mountains, it is a good idea to dress in layers appropriate for the weather (e.g. Tops: base-layer t-shirt, long-sleeve shirt, sweater or fleece, puff-down jacket, outer-layer jacket; Bottoms: long underwear, pants, outer layer snowpants)
Appropriate outerwear suited for the weather (a good windbreaker or hardshell ski jacket)
Wear good, sturdy winter boots
Appropriate headwear (hat, bandana, warm toque)
Gloves or Mitts
A small backpack
Your own headlamp with required red-light setting (if desired)
Your own hiking poles (if desired)
Your own blanket (if desired)
A favorite cushion or collapsible/folding camp chair (to kneel / sit on, if desired)
Any medications / allergy prevention
A Sense of Adventure and an interest to learn!
---
Additional Info
This tour is suited for participants who enjoy an active lifestyle and are comfortable with being outside in cold winter conditions. Prior snowshoe experience is not required, though if you are interested in we do offer a Learn-To-Snowshoe tour during the daytime.
Price: $65.00
Approx. 1.5 hrs (start time may vary depending on time of year / time it gets dark)
Max Number of Participants: 12
Min Number of Participants: 3
Tours may be rescheduled or cancelled at the guide's discretion, if sky or snow conditions are not conducive to stargazing/snowshoeing, if temperatures are below -20C or winds exceed 60km/h.